If You Must Go Out
Friday- 7th Annual Small Town Halloween Bash at the PNA: Victory Street Adams
The costume party at the PNA is second to none because the PNA (Polish National Alliance) is the best and one of the only bars in Adams. The costumes are unique like any bar, but the crowd is all ages and there are typically two bands playing. The Damaged, a local punk act that plays some heavy punk tunes plays the back room while whatever local music teacher that shows up with his amp to sing Paul Simon songs to 5-6 interested family members or close to 100 fans hanging on his very word (depending on who you ask, of course) plays in the front. The beer is cheap blah blah blah and the urinal cakes and the smell. I've been over this more than a few times on this site, but the Halloween party at the PNA is second only to the rare music trivia nights that they hold where Glass Joe and his team of music nerds scores $50 bar tabs with relative ease.
Saturday- Halloween: Everywhere
Adults dress up in costumes and go out drinking in celebration of a kid's holiday. Some psychologists point to the average adult's need to escape the mounting sadness and crisis that exists more and more in this world everyday as the reason why Halloween has become the second highest grossing holiday. Whatever. Beer is cheap, every bar and hangout is alive, and for single folks, the road to the end of whatever sentimental journey that you may choose to take with some stranger is that much shorter than on an average, depressing (any other) night.
Just Stay In
Listen to Some Tunes…
Dead and Co. Live at The Times Union Center (Thursday)
In the one and only time that I will ever see any manifestation of the Dead, I am counting seeing their remains as a victory to be sure. I envy any music fan that got to see The Grateful Dead anytime early on, or when they were touring for Wake of the Flood in the early 70's, or when Terrapin Station came out. For people my age, 35 to be exact, the best Dead years had come and gone before we could see them, and the first shows that my age group would have been able to see would have likely been the last of the shows in 1995 with adult supervision. Thursday, for me, is a fulfillment of an item on my musical bucket list and a chance to see the Dead in a warm up show energized by the prospect of them selling out MSG this weekend and playing LA on New Year's Eve. Even though this is not the best Dead, it may be the last Dead and I am psyched to see what they bring in Albany.
Elvin Bishop: Hometown Boy Makes Good (1976)
I always wonder where stands the man that says, "Boy the Beatles could play music, and Jimmy Page…man. But my favorite of all time? Elvin Bishop." It is a wonder, then, how this guy cut 26 albums- including lives. Bishop has a voice that is quite unique and it lends itself well to the sort-of disco, sort of country, sort of rock, sort of good…This album falls into the latter category. Enough disco energy and enough outstanding singing by Bishop to keep your attention, but nothing memorable by any stretch. Bishop's hit "Fooled Around and Fell in Love" is one to seek out on Youtube, and this album would be worth the purchase if you found it in the under-shelf section at Wild Mutations priced at no more than a dollar.
Pearl Jam: "Gimmie Some Truth" covered from the 1971 John Lennon single
The first version of this song that I ever heard was Pearl Jam's version and I liked it. As I aged and realized that Pearl Jam did not write and sing every great song ever made, I looked the song up and realized that John Lennon sang it. I don't think anyone hated George W. Bush more than Eddie and the careful substitutions of Bush's name (Georgie-Porgie) in place of Nixon's (Trickie-Dickie) from the original bring you back to the Bush era. Take a listen. The Pearl Jam version from the Live at the Garden concert film sounds awesome.
Watch Sports on TV…
Friday and Saturday: Royals at Mets (Fox)
If games 2,3, and 4 are anything like game 1 then I will be watching wire to wire. The Royals post season experience, outstanding bullpen, and raucous stadium propelled the more experienced World Series team to victory in game 1. This series has to be a barn burner, but I still have the Mets in 6. That the Mets can throw Syndergard on Friday followed by Matz on Saturday as their 3 and 4 after Harvey and de Grom  is still scary to me especially since they are opposed by two people whose names I don't even know. Hopefully one of the guys is '85 Brett Saberhagen. Also, is the lowercase "d" in de Grom the most "fuck you I'm a hipster so what?" thing that anyone can ever pull besides the 'stache, consignment gear, and riding one of those old bicycles with the big front wheel? de Grom has been my favorite player to watch this post season by far.
Friday 7:30 C's vs Raptors (Comcast Sports Net)
The first weekend C's game of the season should be cool to watch. After a long stretch of time where teams sought talent and what seemed like minimal structure on both sides of the ball, coaches now seem to be following Popovich's theory of carrying a deep roster that can move the ball and play good defense. The Celtics embody all of those qualities, but truth be told, they aren't as cool to watch without big stars like Pierce, Garnett, and that Bird guy. Still, I like the Celtics because the current incarnation seeks to entertain and win as much as possible when it would be easier to tank.
Sunday NFL viewing guide
1PM Fox: Giants @ Saints (Kenny Albert; Daryl Johnston)
Pros: Any game that the Giants play under Coughlin is entertaining to a non Giants fan because the games are close.
Cons: Any game that the Giants play under Coughlin is maddening to a Giants fan because the games are close.
Kenny Albert calls the most underrated play-by-play on TV and Johnston is preferred 10 times out of 10 to that homer Troy Aikman. Why these guys don't get a shot at the late game with Buck on World Series duty is beyond me.
4PM Fox: Seahawks @ Cowboys (Thom Brennaman; Troy Aikman)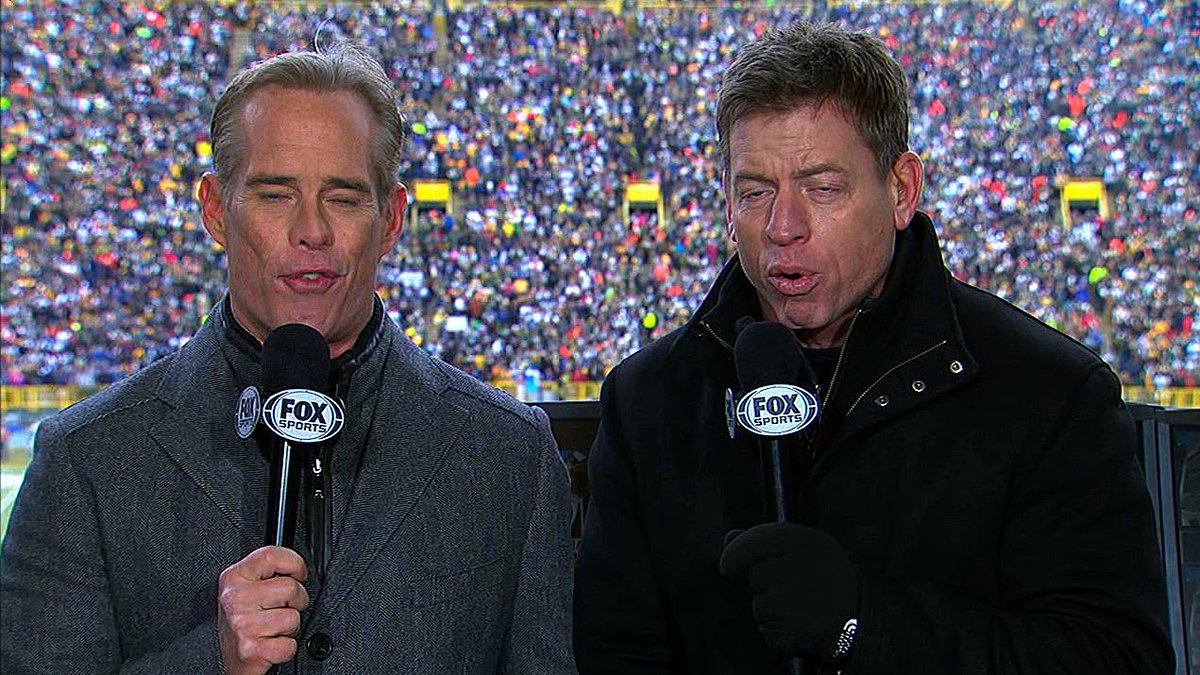 Keeping with the tradition of making sure that we watch plenty of Cowboy games, the Boys get national coverage on Fox everywhere except for the Bay Area- the Jets travel to Oakland for what should be a better game than whatever the Cowboys offer us. And Aikman? He continues to eschew impartiality (especially when the Cowboys play the Giants) in favor of any opportunity to slurp the Cowboys even after they lost 4 games in a row. He reminds me of when my dogs pick up a smell in the yard and start to roll in it even though it is probably squirrel urine.
4PM CBS: Jets @ Raiders (Kevin Harlan; Rich Gannon)
Derek Carr and this offense are going to be fun to watch. In my one fantasy league where all of the shitty gambles I take are actually paying off, I have Amari Cooper and I am excited to see him go. His points projection is down this week, but I am told he does amazing things after the catch. The Jets, just one year removed from Rex Ryan, look competitive for a change. This will be the best game of the day. BTW, Harlan? He should only call hoops. He's just that great on the mic during a hoop game.
Have a Beer…
This beer is brewed with pumpkin rather than having the pumpkin flavor added after brewing. The presence of the pumpkin makes for a sweeter, richer taste that accomplishes what most people think a stout should in that it is rich and filling. I recommend this beer in small doses and the robust flavor is nice before something less rich and flavorful.
Enjoy the Weekend…